Video: Gazans running phone bank for Obama
Incredible!!!
This disgusting creature, called Barrack HUSSEIN Obama/Osama, is getting help from the youth of Palestine.
Now, why would any American vote for a candidate that is endorsed by Hamas, Jimmy Carter, Hugo Chavez, Iran, ETC. and has Palestinians (BTW, not a recognized country by the United States) working the phones for him?

The perfect storm is brewing, folks.

I hate Obama!

It's all about change and change and more change. Why don't you Obama change yourself and move the hell out of here and go where you belong?
Why don't you change directions and go and settle in one of the palestinian camps in the Gaza strip so we can bomb the hell out of you?
That would be
GOOD CHANGE!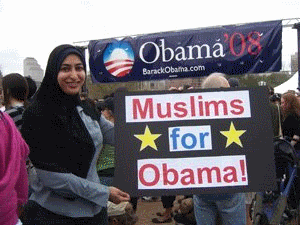 NOBAMA08!